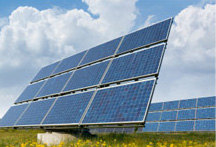 Many large-scale energy users are currently feeling the pinch from rising energy costs. One way to curb these costs is with an onsite renewable energy system. However, many of these users lack either the expertise or financial capital to embark on such a nuanced project.
EOS Ventures provides a "one stop shop" for the necessary services involved with the design and construction of your renewable energy system, ranging from feasibility studies to permitting, interconnection agreements and commissioning. EOS offers a variety of options when choosing which technology and financing structure is right for your organization.
Wind & Solar Development and Financing Options
The engineering, procurement and construction (EPC) option, means that EOS will design, install and commission a wind turbine(s) system or solar instalation, either roof or ground mounted, that is best suited for your specific site and needs, then hands the ownership over to you.
A power purchase agreement (PPA) for wind or solar installations between your organization and EOS requires no upfront capital expenditures on your end. EOS will design, install and commission a system, just as we would under the EPC model. We would continue to own and operate the system, entering into an extended contract to sell you the clean power at a low, fixed rate.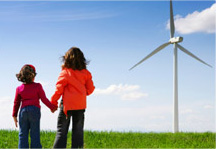 A combination of the EPC and PPA models, is the "flip model". This offers clean, low-cost energy without any initial capital expense, but your organization would have the option of purchasing the system from EOS based on a predetermined market rate formula at designated times in the future. Until that point EOS would own and operate the system, selling the low-cost, green energy to your organization through a PPA.
Why Should You Choose EOS?
EOS has the ability to take advantage of numerous government incentives that you and your organization may not be able to leverage due to various reasons including taxable status and corporate organizational structure. EOS can monetize incentives ranging from green incentive rebates to accelerated depreciation schedules, all of which combine to allow us to offer you the best renewable energy system for your site at the best price. Ultimately you will receive fixed, stable electricity rates you can count on while promoting and hosting green, renewable power. Good for your company, good for the Earth.